When Name Calling Is A Good Thing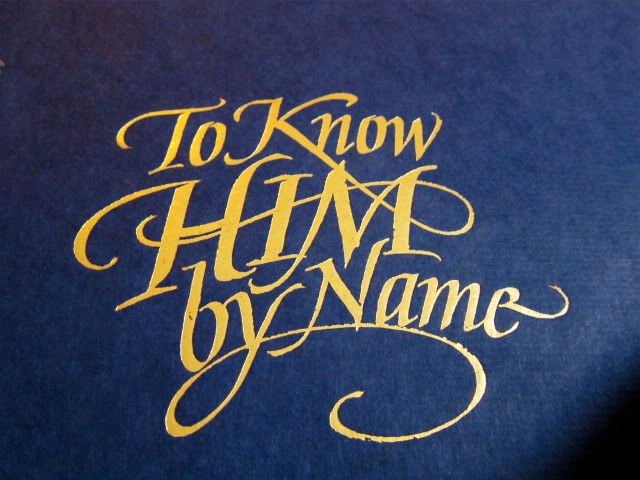 W
hile looking at what others are reading in preparation for Easter this year, I decided to go back to some of my old "standbys"--books I have had for years that never get old to me.
One of those is "To Know Him by Name" by Kay Arthur with illustrations by Timothy Botts.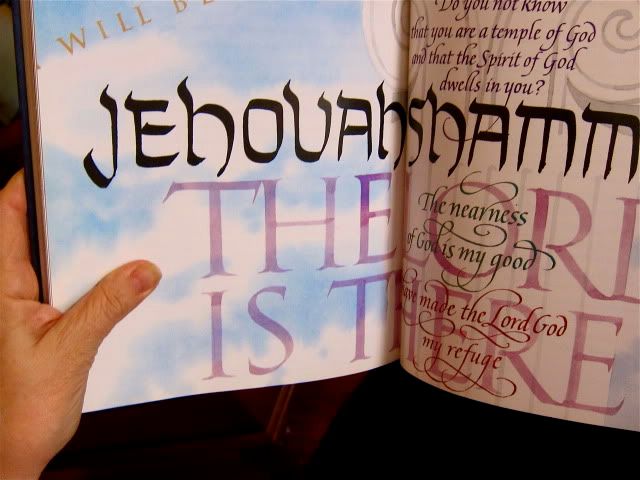 The name I want to share with you today is Jehovah Shammah--meaning "
The Lord is There.
" It is from Ezekiel 48:35.
Dear friend, wherever we are today, the Lord is
there
.
from Psalm 139:

7 Where can I go from your Spirit?
Where can I flee from your presence?

8 If I go up to the heavens, you are

there

;
if I make my bed in the depths, you are

there

.

9 If I rise on the wings of the dawn,
if I settle on the far side of the sea,

10 even

there

your hand will guide me,
your right hand will hold me fast.

11 If I say, "Surely the darkness will hide me
and the light become night around me,"

12 even the darkness will not be dark to you;
the night will shine like the day,
for darkness is as light to you
It's difficult for our finite minds to grasp that darkness is as light to our God but we can believe it because His Word assures us it is so.
Wherever we are today, our God is
there
. Whether we are at the heights of joy or in the depths of despair, our God is
there
. And if God is
there
, He will meet our every need.
And my God will supply all your needs according to His riches in glory in Christ Jesus.
Philippians 4:19
Isn't it incredible that God has chosen us for His Spirit to reside in? Consider the instructions, the matchless materials and workmanship that went in to building the
ark of the covenant
and the temple to house the Spirit of God in the Old Testament. He has formed and made us with even more precision and more value.

more from Psalm 139
13 For you created my inmost being;
you knit me together in my mother's womb.
14 I praise you because I am

fearfully and wonderfully made

;
your works are wonderful,
I know that full well.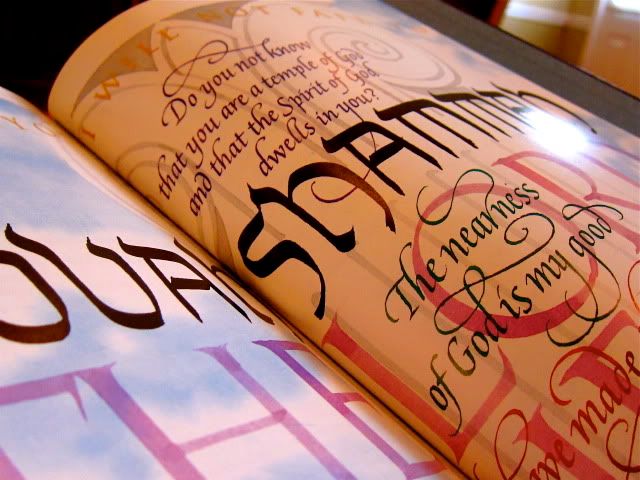 Dear Jehovah Shammah, would you please be
there
today?
There
with each one who stops by to visit today--
there
, wherever their
"there"
is today. And I ask your blessings upon each and every one--knowing that you rejoice with the rejoicing and mourn with the mourning--wipe away each tear and save them in a bottle for the day when you will explain each one we have ever shed. Amen
from the New Living Translation of Psalm 56:8
You keep track of all my sorrows. You have collected all my tears in your bottle. You have recorded each one in your book.
I encourage you today to do some name-calling--yes, call Him by the Names given Him in the Bible, claim the promises that Name invokes, and rest assured that He will not get His feelings hurt--He will be honored, glorified and magnified and will respond to our faith in His character exemplified by these matchless Names.
Sweet blessings,
Dianne
PHOTOS of calligraphy shared with permission of
Timothy R. Botts
.
edited from past pages
995th post
© all photographs and text property of Dianne Hogue unless otherwise noted